A Godox QS600 arrived at our doorstep today. This is to replace one of our older 600Ws workhorses. I'm going to have a quick overview of what this beauty does.
Manufacturer's specifications:
0.3 – 1.5s recycling time
1/2000s (max) flash duration
30-step power control, from 5.0 to 8.0 in 0.1 increments
150W modeling lamp
Anti-preflash function
Auto power discharge
Look up on manufacturer's QS series page.
The box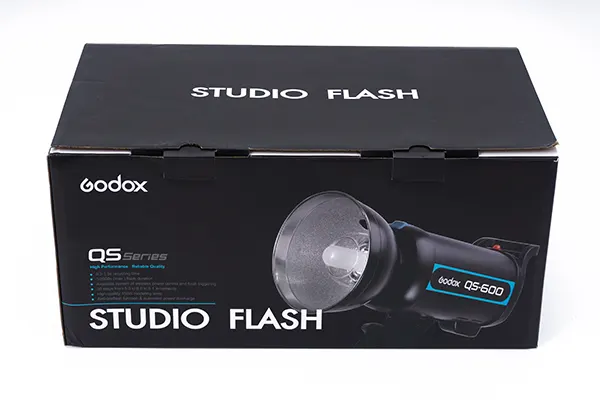 First impression is a positive one. You won't give the box a second look, but it's well-designed and serves its purpose.
The accessories
Included in the box:
Power cable (China / Australia plug)
Power adaptor to UK / Singapore plug
Sync cable
Tube cover
Tube protector
150W tungsten lamp
Reflector
Spare fuses
and the strobe itself
The accompanying accessories are impressive. We've owned many Jinbei strobes over the years. Rarely any of them comes with a reflector and tube protector. The reflector will come in handy particularly when you're starting out, with a limited set of your own lighting modifiers.
The tube protector, though a welcome addition, requires some improvements. It is held onto the strobe by a 3-peg retention mechanism, which isn't strong enough. It can be easily knocked off while you're changing the lighting modifiers. Given the thing is made from glass, it will shatter if dropped on the floor. The 3-peg retention mechanism has been around for a long time, I'd love to see the manufacturers improving it.
QS600 – The strobe itself
On to the strobe itself, being one of the high-end series from Godox (QS series slots below the flagship QT series), it is well-built and feels solid when handled. I'd rank my Jinbei Pilot (original Pilot series) as better built, but this QS600 comes in close second and is better than about any other Jinbei in our arsenal. Hope it will be able to handle all the uses and abuses (:() in the years to come. Buttons and knobs feel solid, but we will have to re-visit these in a year or two, to see if they still hold up. Being strobe used in a photo studio rental environment, built quality is one of the top priorities.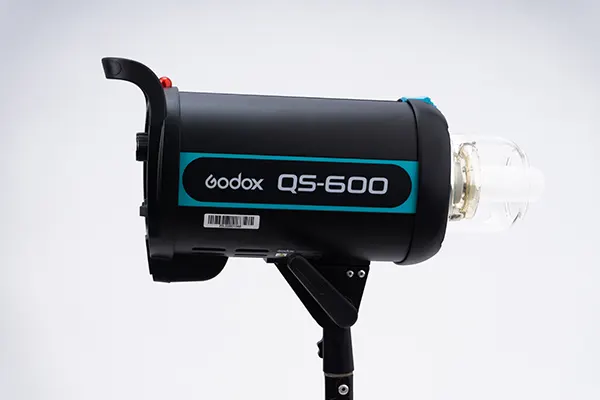 The QS operates just like any other manual strobe. Turning it on, dialing in the power, setting up your sync method of choice and you're good to go. Power dial ranges from 5.0 to 8.0, in 0.1 increments. This is different from Jinbei strobes, which go from 1.0 to 5.0 ~ 9.0, depending on the model. I don't immediately feel the smaller power range would pose a problem but long-term evaluation will be required to tell.
The strobe can be triggered by the good-ole sync port, optical slave or the wireless USB dongle. I don't have any USB dongle in the studio, but the sync port and optical slave mode work as expected. One notable absence is the built-in radio receiver. QS series, being one of the older series from Godox, can't be radio-triggered on its own. This is rectified by the upgraded QSII series, however, for the purpose of our studio, the lack of a built-in radio receiver isn't necessarily a problem.
Notably, the QS600 can be optically triggered by sources with pre-flash. Pre-flash is a series of very quick burst of firings to determine the brightness of environment before the exposure is captured. It works well for its intended purpose, but it triggers most manual strobes pre-maturely. Enter Godox's "Anti-preflash". In this mode, the strobe ignores the pre-flash and only triggers on the final exposure. This comes in very handy for cameras without a standard hotshoe, where an external trigger is not possible. None of my Jinbei strobes can do this, I'd love to see this feature coming to Jinbei in future. Anti-preflash mode is activated by picking the red light for "Slave" mode (whereas blue light means normal slave, the strobe is triggered immediately with any flash firing detection).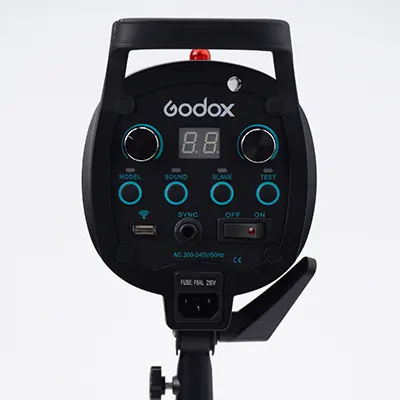 The strobe's modelling light is handled by the ubiquitous E27 150W tungsten lamp. While it does its job, it's hot and uses a lot of electricity. I hope newer models from Godox will have LED modelling light, as Jinbei has been doing for the past couple of years.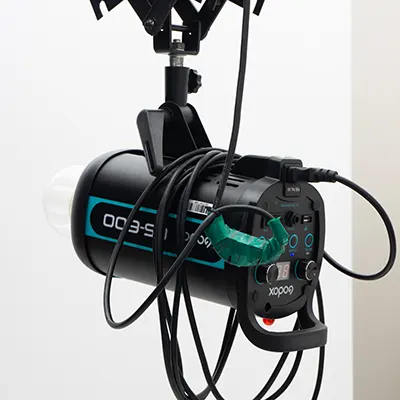 Overall, I'm quite happy with the Godox QS600. Jury is still out on its durability, but I don't expect any major issue. The model is being phased out by online sellers, and it can be had for a significantly less amount of money compared to the newer QS600II. If you don't need the built-in radio receiver, it makes a great purchase.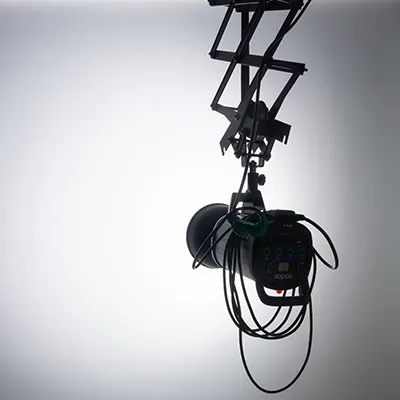 Ready to make your first booking? Book now!
Having some questions? Ask away!